Camp Any Town
http://www.occjok.org/programs/camp-anytown.html
For over 20 years, Camp Anytown, Oklahoma, (which began in 1994), has listened to the hopes, fears, frustrations and dreams of young Oklahomans. Anytown has been recognized as one of the most effective human relations and leadership/diversity training programs for youth in Oklahoma. Each year Anytown sends forth a new class of world citizens.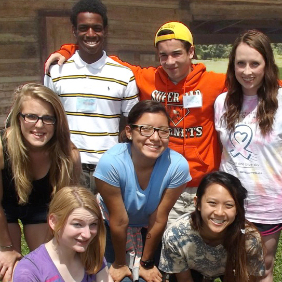 Anytown Includes
Discussion groups and workshops

Culture night

Talent night

Campfires and singing

Recreational activities
Anytown Enhances
Citizenship

Self Awareness

Communication skills

Leadership skills

Cultural awareness

Racial understanding

Gender role perceptions

Family relationships

Interreligious respect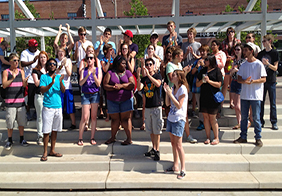 Anytown Experience
Incoming sophomores, juniors and seniors from high schools in Oklahoma come together for one week in a peaceful camp setting, bringing to each other the experiences of their diverse cultural, ethnic, religious, racial and economic backgrounds.
Respect and awareness develop, as delegates become friends, learning from and about each other. Workshops, discussion groups, assemblies and special events contribute to the Anytown experience. Leaders from Oklahoma's cultural, professional, religious and educational institutions serve as resources.
Anytown delegates are the leaders of tomorrow. Anytown prepares them to make decisions based on an awareness, appreciation, and understanding of the diversity that exists in all aspects of life. Delegates leave Anytown with a comprehensive understanding of what it means to be a world citizen.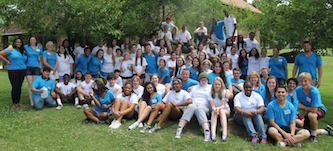 Delegates
Anytowners represent a wide variety of racial, religious, ethnic and economic backgrounds.
The Anytown selection process begins with the submission of an application and a letter of nomination from an adult advisor involved in a leadership activity listed on the application.
The cost of the week-long Anytown session, $350, includes round-trip bus transportation from Tulsa and Oklahoma City to camp, meals and housing, an Anytown T-shirt, and all workshop materials. Insurance is provided for the camp. Scholarship assistance is available.