YLOKC Meeting at Casady's Harper Wing, 4:00-4:30 pm
Attendance:
Youth Leaders: Gabrielle M. (left early), Mallory W., Evelyn D. (via blog), Ryan H. (via e-mail)
Mentors: Shannon and Carmen


Agenda:
The meeting started at 4:07 pm due to Casady Yearbook distribution.
1.
YLOKC 2016-2017
M
emorial and
M
useum
M
ulticultural
D
eep
L
istening
E
xperience
Yesterday's meeting at 4:00 pm was the Casady Service-Learning Program attempt to inspire the summer facilitation of the Youth LEAD Experience planned at the YLOKC Camp Classen Retreat.
Mallory W. did not attend the retreat and training at Camp Classen, but she will facilitate the summer effort to bring the YLOKC
MMMDLE
to Boys and Girls Club at Memorial Park. Mallory has been a club volunteer for many years.
What?
A multicultural experience and deep listening dialog combined with a full educational visit experience to the OK National Memorial and Museum
(Lynn Porter, the Education Director of the Museum. Lynne contacted via e-mail:
(405) 235-3313
)
Who?
Facilitators: Youth LEADERS and Museum Education Director Lynne Porter (Contact Mallory at mallorywoodruff@casady.org if interested in facilitating)
Audience: Boys and Girls Club at Memorial Park (20-40. Transportation provided by the Club preferred. Pertinent club administrators were contacted via e-mail)
Mallory will provide the WEEKDAY date, starting at 10:00 am in June after she talks to Lynn Porter, Director of Education at the Museum and A Jaye Johnson, Senior Director of Community Relations and Facilities of Boys and Girls Club at Memorial Park. Food for participants provided by a combination of regular lunch and tasty tidbits and drinks from local multicultural restaurants
Oklahoma National Memorial and Museum and Boys and Girls Club at Memorial Park
How? Possible Suggested Schedule
Youth Leaders arrive at 9:00 am to set-up the reflective Art experience and the Multicultural Dialog Experience. Boys and Girls Club arrives at 9:45 for group pictures outside the museum
- 10:00-11:00 The Memorial guided tour by Park Ranger
- 11:00-12:00 The Museum self-guided tour
- 12:00- 1:00 Lunch catered by local restaurant Youth LEAD reflective Art Experience
- 1:00-1:30 First Person Story and Oklahoma Standard from those who lived it
- 1:30-2:30 Archives and Forensic Lab Experience
- 2:30-3:30 Youth LEAD Multicultural Dialog/deep Listening Experience with food samples and drinks from local international restaurants
- 3:30-4:00 Time at the Museum Store, Group Picture. Transport to Boys and Girls Club
How Much?
Possible costs and/or in-kind donations
Museum Admission $15 adults, $12 Youth $7 Group cost for students
Update: $4 only. YLOKC could request coverage of this feed from sponsoring organizations such as the YMCA, Casady Service-Learning, Common Ground, Mercy School Institute
Meals $10 lunch $10 for International Samples unless donated
Boys and Girls Club will cover lunch costs for 30 club members. YLOKC will have to cover lunch for teen facilitators and mentors.
Costs of bus and bus driver for the day: $100
Boys and Girls Club will provide transportation for the club members. YLOKC have to provide their own transportation or contact mentors if transportation is needed.
Oklahoma Standard t-shirt available for purchase at the Museum store $25
If we contact the manager of the Memorial Museum Store, we can get group discouts.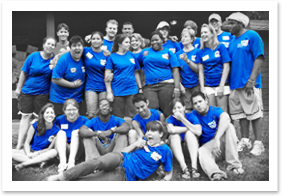 Camp Anytown, Oklahoma 2017 will be held July 30 - August 5 at St. Crispin's Conference Center and Camp. This program promotes self-esteem, good citizenship, and leadership in an atmosphere steeped in rich diversity. Incoming sophomores, juniors, and seniors from across Oklahoma are eligible to participate in this award-winning, human relations camp. The Anytown program ranks among the preeminent human relations experiences in Oklahoma.
Camp Anytown is often characterized as a "life-changing" opportunity by those who attend. This camp experience has made a difference in the lives of more than 1,000 teens since its inception in 1994. For additional information, click
HERE
. You can also contact the OCCJ office at 918-583-1361 or email
info@occjok.org
.
Meeting adjourned at 4:30 pm. Next meeting will be called by Mallory via e-mail.
Food for thought about identity shared in meaningful dialog
A CLOSING REFLECTION BY NATALIE OLIVARES
A group of Winsor girls, ranging from freshman to seniors, embarked on a 13 day trip to Peru. We visited various towns as small as Qenqo, in which the whole village came together on a daily basis to tend to each other's land, and larger towns like Ollantaytambo, which attracted tourists from all over the globe. From rafting the Urubamba river and biking the mountains of Ollantaytambo to interacting with the community of Qenqo and interviewing children at Munaychay, our experiences across the Sacred valley were unforgettable.
But we were not simply tourists visiting a foreign country. Ms. Kashyap's Global Competency workshops created a space where all girls shared their own diverse cultural autobiographies. The exercise not only enabled each student to share their family history and cultural identity, but also allowed the group to learn and to get to know each other on a more personal level.
Each set of cultural autobiographies we shared led to a discussion with thought-provoking prompts that allowed us to explore the diversity of opinion within the group. Topics that included the role of tourism and feelings of "otherness" allowed the group to find commonalities when it came to its diverse cultural experience. In our travels, we learned a greater truth about human relations not by helping locals, but working alongside them. Through our discussions amongst ourselves and with Peruvians we met along the way, we learned that there is no one right way to live.