WE
- A global campaign of We, The World to unite and amplify the efforts
of people, organizations and movements working for the common good
WE.net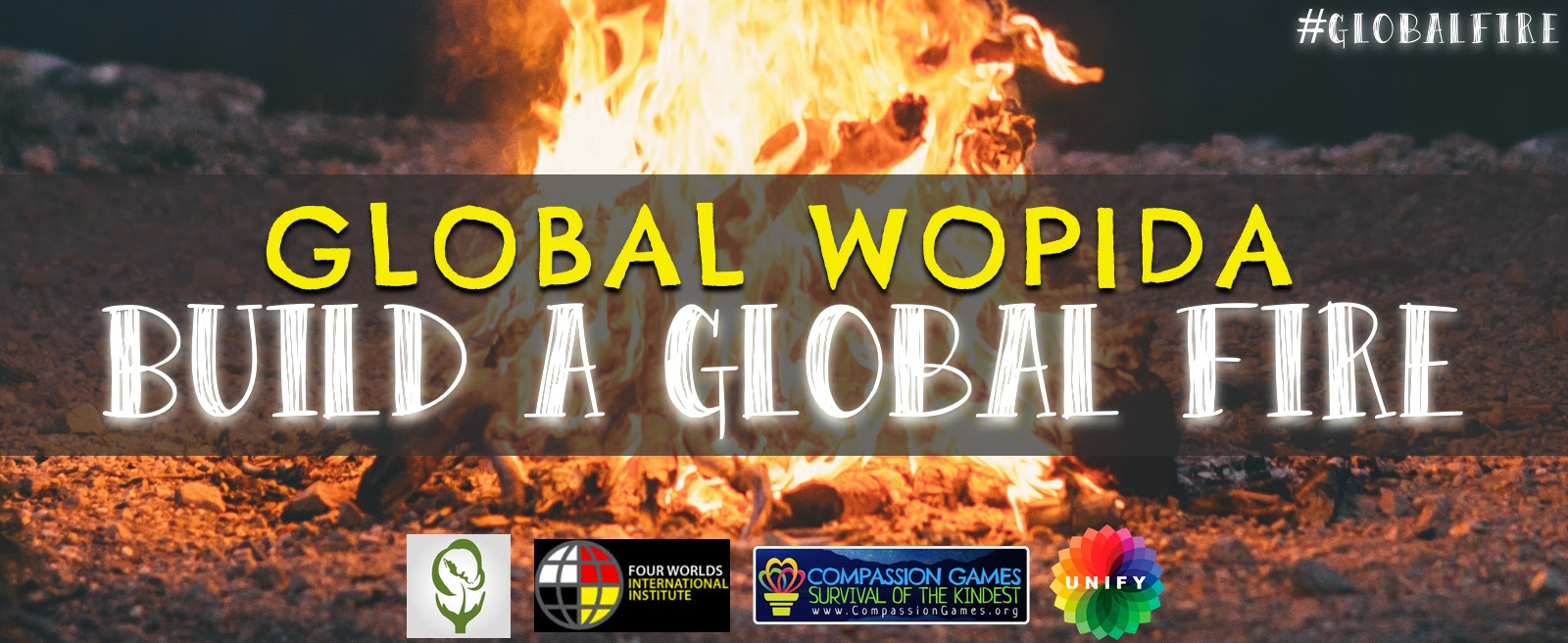 Global Wopida Ceremony
BUILD A GLOBAL FIRE
OF COMPASSIONATE ACTION



December 10th

- International Human Rights Day
Share the Transforming Spirit of Standing Rock World-Wide
Prayerfully Ignite a Six Month Global Fire of Gratitude and CompassionPlease check the Facebook Page periodically for Participation Links and all Updates:https://www.facebook.com/events/1801789790061640/?ti=icl
Dear Friends,
We, The World
is Co-Sponsoring this extraordinary day with
Compassion Games
,
Unify
,
Charter For Compassion
and many other global partners in support of
Standing Rock
on
Human Rights Day

December 10th
. The schedule and other details are still being worked out, so please visit the
Facebook Page
periodically for complete information including Participation Links and Updates.
This
Day of Global Wopida
is the culmination of the
Giving Games
(
November 29th - December 10th
) the unique and inspiring global challenge created by the
Compassion Games
, a Leading Participant in
11 Days of Global Unity
(which was launched by
We, The World
and our partners worldwide in 2004).
Below are more details including a Tentative Schedule for the
Saturday Dec. 10th
events, which include a live Tele-Conference planned for
1PM
USA Eastern Time that I (Rick Ulfik) will be co-hosting with Compassion Games founder
Jon Ramer
featuring
Hereditary Chief, Phil Lane Jr.
and others.
Thank you for participating in this inspiring event from wherever you are in the world.
And thank you for being part of the
WE Campaign
. As our Advisory Board Member
Jonathan Granoff
says:
"I hope WE expands so much there is no longer any THEM!"
Your generous
Support
will help to make that a reality!
Rick Ulfik
Founder of
We, The World
and the WE Campaign at
WE.net
11 Days of Global Unity
-
11 Ways to Change Your World
Highlights of 11 Days of Global Unity 2016
including Jane Goodall, Tavis Smiley, Neale Donald Walsch and many others!
GlobalUnityCalendar.org
- See and post social change events and announcements worldwide!
Volunteer Sign-up:
http://WE.net/takeaction/volunteer
Organization Sign-up:
http://WE.net/11days/participate
Donation Page:
WE.net/donate
Global Wopida Ceremony -

December 10

-
International Human Rights Day
Share the Transforming Spirit of Standing Rock World-Wide

Hereditary Chief, Phil Lane Jr.
"This spiritual understanding of Wopida requires each of us to live with honor, compassion, love, respect and harmony with all life. This spiritual understanding recognizes that the Hurt of One is the Hurt of All and the Honor of One is the Honor of All and that we are intimately related as an integral part of all Life. We are all relatives!"
Saturday, December 10th
On
Saturday, December 10
, International Human Rights Day, a collective of global partners will host a Global Wopida Ceremony, an unprecedented day of unified, prayerful, action.
December 10th

Events
(Note: This schedule is subject to change. Please check the
Facebook Page
periodically for updates)
11:00 AM

USA Eastern Time /

4:00 PM GMT
Pray With Standing Rock: Synchronized Prayer and Meditation
Standing Rock, North Dakota
12:00 noon

USA Eastern Time /

5:00 PM GMT
Sustaining Life On Earth: Sunrise Ceremony at Convention on Biological Diversity Hosted by Cancun, Mexico
1:00 PM

USA Eastern Time /

6:00 PM GMT
Telesummit: What WE can do together to create a world that works for
all
?
Also on this Day
Compassion Walk: Compassionate Louisville
Louisville, Kentucky
Connecting "Standing Rocks" All Over the Earth: Tsleil Waututh and Kinder Morgan
Vancouver, British Columbia
Closing Ceremony
The
December 10th
Global Wopida Ceremony will be broadcast around the world, during the UN COP13 Convention on Biodiversity, from Cancun, Mexico, in partnership with the
Alianza Mesoamericana de Pueblos y Bosques
, The Mesoamerican Alliance of People and Forests.
What is a "Wopida"?
"Wopida" is a Dakota word with profound, infinite, eternal meaning and transforming spiritual energy. The purpose of the
December 10th
Global Wopida Ceremony is to be thankful and grateful for whatever Life bestows on us, knowing that every test and challenge comes into our lives for our spiritual growth and upliftment!
"Whenever our souls and the innermost chambers of our heart are filled with thanksgiving and gratitude, it becomes filled with compassion, love, understanding, forgiveness, joy, happiness and oneness and there is no room for fear, hate, prejudice, revenge, jealousy, loneliness, disunity or separation from ourselves and other Members of our Human Family." Dakota and Chickasaw Elder and Spiritual Leader, Phil Lane Jr.