Unifying different backgrounds into one community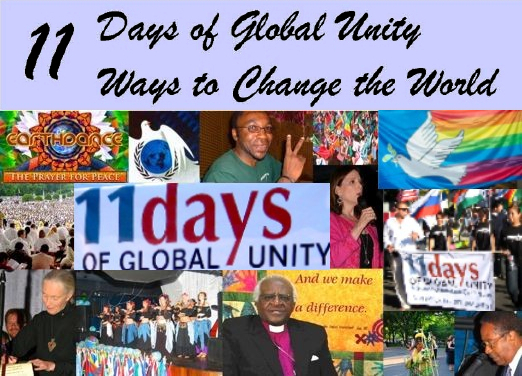 TO: The Planning Team for
International Day of Peace
September 21st -- Metro OKC
Minutes from Bill Bryant, Communications Director, United Nations of Greater Oklahoma City.
The planning is underway for this year's International Day of Peace celebration in OKC. You are invited to join our next planning session:
Wednesday, June 1st -

- 6pm to 8

pm
Raindrop Turkish House
4444 N. Classen Blvd
Oklahoma City, OK 73118
During our first meeting, it was decided that our observance of the International Day of Peace in OKC will be o
n Saturday, September 24
th, in collaboration with the
TURKISH FESTIVAL
at the Myriad Gardens.
The Turkish Festival will run fro
m 10am to 6
p
m on Saturday, the 24
th. For our celebration of the International Day of Peace, we envision a peace march taking place as part of the festival. The peace march will feature international groups, youth groups, faith groups, advocates for peace and sustainable development, etc.
The exact route and timing of the march hasn't yet been decided. We'll need to develop guidelines for marchers, a plan for recruiting participants ... Lots of details to be worked out. Will there be music, drums, flags, and banners? Pinwheels? So many things to think about.
Please join us o
n June 1
st to take the next steps forward. Feel free to invite others who might be interested in helping.
Our first planning meeting took place on May 18th at Oklahoma City University. Participants included Moses & Sadie Mast, Noel Jacobs, Carmen Clay, and Bill Bryant. Many thanks to Joe Meinhart for the use of his meeting room.
See you o

n June 1

st at the Raindrop Turkish House!
--Bill
Bill Bryant
Communications Director
Oklahoma City Chapter
United Nations Association of the USA
Preliminary Ideas
Routes for the Walk being considered
From Sheridan,to Myriad Gardens
From Boys and Girls Club where the Sri Chinmoy Oneness-Home Peace Run Torch was on 5/21/2016 to the Myriad Gardens. A. Jaye Johnson. Director of the Club welcomed the idea
From Raindrop Turkish House to the Myriad Gardens
From Oklahoma City National Memorial and Museum - need to explore with the museum- to Myriad Gardens
Considerations: Long or short walk.
Cost of city permissions to close streets with safety officers, pertinent safety connections cost, cost of liability insurance and required city restrictions for safety and health issues will have to be explored before the route of the walk can be determined.
At the beginning of the walk and at the end of the walk, at the Myriad Gardens, there will be inspirational activities and maybe a speech or a panel of speakers. An idea of a multicultural peace resources Fair was brought to the attention of the UN IDP OKC planning team to consider at next meeting.
After or Before Walk Exciting Possible Connections
A post meeting suggestion of an inspirational speaker is Sam Presti, Manager of the Oklahoma City Thunder and main promoter of the Oklahoma City Standard, One act of Kindness, Honor, and Service sponsored by the Oklahoma City National Memorial and Museum
Another possible speaker is Thunder player Serge Ibaka born in Congo, Africa and a Spanish citizen. See what PEACE ONE DAY is trying to accomplish in Africa in the area of Peace with the sponsorship of Warren Buffett.
Brief Introduction of Peace One Day- Worked to institutionalized IPD@ UN
Peace One Day Great Lakes Campaign in collaboration with Warren Buffett
On 5/26/2016, Sadie sent the Campaign of nonviolence link which call for marches advocating peace and non-violence. They have a bureau of speakers that might also be explored. Here is the link http://www.paceebene.org/programs/speakers/. Another source of speakers is the Respect Diversity Foundation. Here is their link http://therespectdiversityfoundation.org/ Some speakers charge a nominal fee, others are pro bono.
The Casady YAC Peace Team connection MAY BE with walkers with signs and pinwheels raising awareness of UN Peace Day-Peace One Day, and the 11 Days of Global Unity. The YAC theme and the evolving YAC Peace Week WHY?
Unifying different backgrounds into one peaceful community
(
Environment-Unity in Diversity-Participating in the community to improve lives-Going Beyond Co-Existence) align very well with the UN IDP
OKC
Walk.
Jeremy Gilley on Skype with Casady YAC Peace Team 2015
The Casady Peace Team may also want to consider bringing a t-shirt design to the attention of UN IDP OKC planning team at the next meeting. Coca Cola is one of the sponsoring businesses of
Peace ONE Day
-organization that institutionalized the IDP at the UN. Jeremy Gilley, its founder has been our inspiration for many years. Other possible sponsors could be the businesses from the Asian District, the organizing entities of the walk, and multicultural and civic OKC clubs promoting peace, like the Respect Diversity Foundation, the Oklahoma Conference of Churches, the Rotary Club, the Lions Club,the Asia Society of Oklahoma, the Latino Community Development Agency, The goal will be to give away or at minimal cost environmentally friendly inspirational t-shirts at the walk and the entire Casady community participating in the 11 Days of Global Unity Activities from 9/11-9/21, our PEACE WEEK.
The Casady music and art departments will be contacted to see if they could help with inspirational posters and banners for the walk as well as musicians cheering the walkers and performances of peace/multicultural pieces at the end of the walk.
Three other schools were brought to the attention of the UN IDP OKC planning team as possible connections DOVE Science Academy and DOVE Elementary School. Dr. Noel Jacobs mentioned a new school for refugees, New LAND Academy.
Unifying different backgrounds into one peaceful community
Two Cyclones requested an investigation field trip to Boys and Girls Club at Memorial Park to see what service opportunities were available at the Club during the summer. It was an unexpected surprise to meet members of the World Harmony, Peace Run USA 2016 at the club's parking lot. The Peace Run Team was waiting for 4:00 pm to present their mission, vision, and purpose to the club members.
The Peace Run Team welcomed questions and allowed Cyclones Ellie G. Hannah J. and Carmen Clay'74, the honor to hold the Peace Run Torch which symbolically has been held by prominent peace leaders of the global community, one of them being Mother Teresa. They also took pictures, sang their Peace Run song and provided business cards to follow-up YAC's plans to join an OKC Peace Walk being planned in collaboration with the United Nations of Association of Greater Oklahoma City and other Peace organizations in OKC for September 24, 2016 to celebrate UN International Day of Peace, 9/21, which this year falls on a Wednesday.
Silent Peace Meditation Walk
An interesting initiative