National Volunteer Week is about inspiring, recognizing and encouraging people to seek out imaginative ways to engage in their communities. It's about demonstrating to the nation that by working together, we have the fortitude to meet our challenges and accomplish our goals. The week is sponsored nationally by the Points of Light Foundation.
Cyclone Volunteers for your time, talents & compassion
The Casady Service-Learning Program in collaboration with the Casady

YAC

(

Y

outh

A

ctive in the

C

ommunity) will have celebrations and service experiences for Global Youth Service Days (Friday April 15-Sunday, April 17)
What? National Volunteer Week April 10-16, 2016
Who?
Casady Upper Division Volunteers
Why? Thumbs Up to Cyclone Volunteers, YOU ROCK!
When and Where?
Sunday, April 9/10 10: Red Bud Classic Volunteering
Red Bud proceeds go to Pepper's Ranch,
a
Foster Care Community seeking to "break the cycle" of child abuse and neglect through loving homes, counseling, and growth-oriented activities.
Monday, April 11: Chapel & Harper
President Volunteer Service Awards
Mr. Josh Bottomly, Speaker. YAC facilitates the Awards Ceremony
Awardees are recognized at Chapel and pick-up medals, certificate, letter from President Obama, and token of Service-Learning Program appreciation at Harper.
Tuesday, April 12: Harper, Activities, YAC Celebration
Tea Time with Service-Learning & YAC
Enjoy this English tradition by Sage as YAC showcases what they do and why
The YAC Community Room will be a green room for Ipad video taping of volunteer stories
Wednesday, April 13: Harper, Activities, 5th Period, Double
Volunteer Stories and Roots of Service Quilt Patches
Thursday, April 14: Harper, Activities, 5th Period, Double
Volunteer Stories and Roots of Service Quilt Patch
YAC volunteers at Evening of the Arts
Established in 1988, Global Youth Service Day (GYSD) celebrates and mobilizes the millions of young people who improve their communities through service. GYSD is the largest service event in the world and the only one dedicated to the contributions that children and youth make 365 days of the year.
GYSD is celebrated each year in more than 135 countries, with young people working together–and with schools, youth organizations, nonprofits, community and faith-based organizations, national service programs, government agencies, and adult mentors– to address the world's most critical issues and change their communities.
The goals of Global Youth Service Day


Scale: Engage millions of young people, ages 5-25, especially those not usually asked to serve, in an early step on a life-long path of service and civic engagement.
Visibility: Recognize, celebrate and raise public awareness of the year-round contributions of young people, youth service programs, and partner organizations, especially among the media and public officials.
Impact:
Have a positive impact on young people and on communities through meaningful, youth-led projects that meet community needs in the areas of health, education, human service, human rights, and the environment. Projects reflect YSA's four key strategies that create change: awareness, service, advocacy, and philanthropy.
Global Youth Service Days @ Casady Upper Division: Friday, April 15-Sunday April 17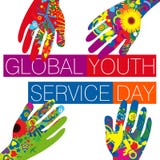 Friday, April 15: Boys and Girls Club, 4:00-7:00
Serve at Boys and Girls Club
4:00-5:00 Tutor children with math and reading 1/1 Ratio
5:00-6:00 Students Rebuild Healing Classrooms Challenge: Pinwheel making with assigned groups. 2/20 ratio
6:00-7:00 Mentor children with your personal talent. Volunteer decides ratio
Dance, play sports, play a musical instrument, read volunteer books
Saturday, April 16: 9:00 am-11:30 am
Eating Disorders Walk @
Chesapeake Boathouse. Go to
Registration
to participate
11:30- 12:00 pm.
Site Visit to Homeless Alliance- Project Perfect Pair
Sunday, April 17:
Serve with your family, friends, place of worship
Students Rebuild Healing Classrooms: Pinwheels for Syrian Refugees
"The true meaning of life is to plant trees, under whose shade you do not expect to sit." ~Nelson Henderson. This latest music video by the singer/songwriter team of Nimo Patel and Daniel Nahmod and filmmaker Ellie Walton captures the joy, introspection and inspiration in the song, "Planting Seeds." The song was inspired by Daniel Nahmod's original 2006 Water album, which captures the spirit of doing our part (planting the seeds), but then letting go and not holding on to what may come. - See more at: http://www.karmatube.org/videos.php?id=7049#sthash.LcOPFIXU.dpuf
Thursday, April 21 @ 8:00 am. Central Time
Live Webcast Syria & the U.S.
This is a chance to connect with Syrian students we are helping by making pinwheels!
RSVP now
for this free, live webcast from Lebanon for the
Healing Classrooms Challenge
.
See Syrian students who are beneficiaries of the Challenge, meet American students taking the Challenge.
Educators from Lebanon and the U.S. will connect as well.You can participate by sending questions through a Chat feature that will be answered in real time! Can't watch it live? See video of the webcast on YouTube channel right after the live event. Link forthcoming!
| | |
| --- | --- |
| April 7, 2016 | Volume 23, No. 14 | |

Just one week left until GYSD 2016!

If you haven't already planned a project, visit the

GYSD Map

to find opportunities to serve in your community. If you're in the midst of project planning, don't forget to

register your project

and tell the world about your GYSD plans.

Now is also a great time to reflect on the long-term global impact youth will make this Global Youth Service Day. While GYSD takes place in April, the work to achieve the UN Sustainable Development Goals, or Global Goals, continues year-round. Because GYSD spans the range of issues covered by the Global Goals, it serves as an excellent launching point to educate youth about the Global Goals.

Learn how you can

incorporate the Global Goals into your GYSD project and beyond

using the Youth Action Mapper (YAM). YAM uses a free, state-of-the-art mobile GIS platform that allows youth (or Mappers) to use their phone and map youth action opportunities in their community.

Download the Youth Action Mapper Toolkit

that includes directions on how to upload the app to your phone and examples of how to utilize the mapper before, during, and after GYSD.


Pick, plan, post, and promote your project now at www.GYSD.org





Pick Your GYSD Project
One way to get involved during Global Youth Service Day is to join in one of the many GYSD Partner Days of Service that take place in April. You can celebrate both GYSD and another event with a single project! Consider these service opportunities:
National Volunteer Week (

April 10-17

) is a time to celebrate people doing extraordinary things through service. Share your stories about the impact volunteers are having in your community or through your organization or recognize and celebrate your volunteers.
J-Serve International Day of Jewish Youth Service (

April 17

) Help engage 10,000 Jewish teens throughout the world in meaningful service projects through J-Serve. J-Serve provides teens with the opportunity to fulfill the Jewish values of gemilut chasidim, acts of loving kindness, tzedakah, just and charitable giving, and tikkum olam, the responsibility to repair the world.
America's PrepareAthon! National Day of Action (

April 30

)- America's PrepareAthon! is a grassroots campaign for action to increase community preparedness and resilience. Join others around the country to practice your preparedness!
Post Your Project
Total Number of Projects Registered as of 4/7/16: 778 Sustainable Development Goals with the Most Projects:
(1) SDG3: Health (2) SDG4: Education (3) SDG2: Hunger (4) SDG15: Life on Land SDG1: Poverty (5) SDG6: Clean Water & Sanitation
Number of Countries with Projects Registered:
69
Top Countries:
(1) Kyrgyzstan (2) Cameroon (3) Tanzania (4) Kenya (5) India
Number of U.S. States with Projects Registered:
43
Top States:
(1) Wisconsin (2) Ohio (3) Michigan (4) Minnesota (5) Pennsylvania
Post your project and explore the GYSD Map.
Plan: Safety Smart Ambassador Program
Are you looking for a service opportunity to make a difference in your community? UL's Safety Smart® Ambassador Program is a global youth education initiative aimed at improving the safety awareness and understanding of children ages 4-9. This program teaches children how to practice safe behaviors and manage their surroundings as safely as possible. Safety Smart combines the creative storytelling of Disney and the scientific expertise of UL and uses characters like Timon and Pumba to teach children how to be safe around electricity, fire, water and even online safety. In addition to these safety topics, find out how you can be a "Green" Ambassador or "Healthy and Fit" Ambassador.
Andrew Diodato
shows how you can organize a mentoring program that provides meaningful support and friendship to children with learning disabilities in your own school or community in our
Be an Everyday Young Hero
tip sheet series.
Download the project replication guide.
Promote: GYSD Stories
Spread the word about your Global Youth Service Day events!
Use these free resources
to let your community know how youth are changing the world.
On the YSA Blog
GYSD In the News
LAST CALL: UPDATE YOUR CONTACT INFORMATION
Good Neighbor Impact School Grants &
MLK Beloved Community Impact School Grants
Deadline:

May 6
YSA and State Farm are looking for school administrators who want to create a culture of meaningful and purposeful learning in their school or school district. We will select 20 U.S. K-12 public schools to be recognized as Good Neighbor Impact Schools. Each school or school district selected will receive a grant of up to $5,000 to support their efforts to increase student engagement through service during the 2016-2017 academic year. Grantees will also be eligible for up to $3,000 in additional grant funding through the
MLK Beloved Community Impact School grant program
to support student-led service projects on or around MLK Day of Service 2017.
www.YSA.org/impactschools
Deadline:

May 6
Road safety is the biggest public safety challenge that India faces, with an average of 15 deaths every hour caused by road accidents. With more than 50% of India's population under age 25, we believe that India's young people are uniquely suited to help solve this problem. Youth Fellows, ages 15-25, as well as primary, secondary, or college/university educators from Bangalore, Delhi, Mumbai, Ahmedabad and Pune will be selected to receive grants of up to USD $1,000 and in-person training in August 2016 to support youth-led road safety projects.
www.YSA.org/SaferIndia
Deadline:

May 2
Do you have a passion for road safety? Apply for the State Farm Road Safety Ambassador Program, a year-long experience for young leaders ages 16-25. The program will kick off this June with an all-expense paid, leadership training and Road Safety Summit in Washington, DC. With a $500 grant to support an event during National Road Safety week in October, training, and ongoing project-planning guidance from YSA and State Farm employees, Road Safety Ambassadors will raise public awareness and create change around road safety.
www.YSA.org/roadsafety
Deadline:

April 10
The Power of Children Awards celebrate young people in grades 6-11 who help to make the world a better place. Each award recipient will receive: a $2,000 grant to continue his or her extraordinary work, a partial four-year post-secondary scholarship to a participating institution of higher learning, recognition in the museum's The Power of Children exhibit for at least one year, and recognition during a special awards event at The Children's Museum of Indianapolis on
November 11, 2016
.

Nidhi Bhaskar founded Project New Boundaries for Youth (ProjectNBYOUTH) in summer of 2015. When Nidhi volunteered in India, she saw the potential hazards to children who play near the mounds of garbage on the streets. She decided to address the issue of waste management in India by challenging youth in Bangalore, India to encourage people to reduce, reuse, and recycle their plastic waste. Nidhi created a competition and awards program for students in Bangalore, challenging them to develop solutions to the waste management issue in their community. She hopes to inspire students about team work, leadership skills and community awareness.
SERVICE SONGS OF THE WEEK
"My Silver Lining" - First Aid Kit
"Gotta keep on going, looking straight out on the road
Can't worry 'bout what's behind you or what's coming for you
further up the road
I try not to hold on to what is gone,
I try to do right what is wrong
I try to keep on keeping on
Yeah I just keep on keeping on."
The complete Service Songs of the Week playlist from 2012-2016 is at
http://bit.ly/servicesongs
SAVE THE DATE
YAC/Recycling/Composting Clubs Earth Day Celebration
Adopt the Street Morning and Composting Afternoon @ Casady School
Saturday, April 23: 9:00 am Calvert
YAC Strategic Planning for School Year 2016-2015
Saturday, April 30, 9:00-noon. Lunch by Grand House
YAC Celebration Banquet and Senior Send OFF
Date TBD, 7:30-9:30 @ Grand House