Best of luck to Mallory, Finalist: YAC IS VERY PROUD OF YOU!
The Ninth Annual Good Neighbor Awards Banquet will be held Thursday, November 5th, 2015.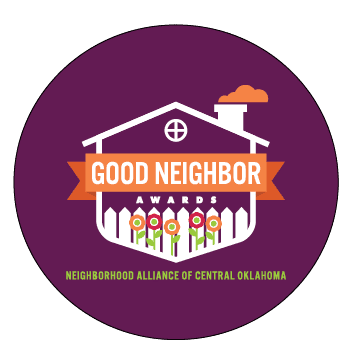 Scout Finch Award, recognizing a Good Neighbor 18 or younger:
Kids of College Hill
Ruthie Presswood, Culbertson's East Highland
Mallory Woodruff, Boys and Girls Club
Individual Good Neighbor of the Year:
Larry Bross, City Care
Sean Evans, Serve Moore
George Kofa, Culbertson's East Highland
Best Community Partner:
OU Regional and City Planning/OU School of Architects
Waste Management
OKC Beautiful
Best Neighborhood Project of the Year:
Rollingwood Neighborhood Association
Mesta Park Neighborhood Association
Medical Community Neighborhood Association
Best Neighborhood Communications:
Douglas-Edgemere Neighbors
Gatewood Historic District
Greenbriar Eastlake Homeowners Association
Best Neighborhood of the Year:
Lansbrook Homeowners Association
Persimmon Hill Neighborhood Association
Edgewater/Lake Pointe Neighborhood Association
About the Good Neighbor Awards:
The Good Neighbor Awards recognize the individuals, organizations, and neighborhoods who go above and beyond to create safe, attractive, and healthy neighborhoods throughout Central Oklahoma.