Agenda
1. Items from the Floor and on parking lot for several meetings
a. Food Drive: Final Details. Planning team and freshman Chairs
http://casadystudentsagainsthunger.blogspot.com/
Flyers, posters, speakers, announcements, daily duty at divisions week of 26-30 of October.
October 20 Food Bank speaker at all chapels
October 24 opportunity to volunteer at City Care feeding the homeless 9-12.am with May Flower Church (need to email mrs. clay before going)
October 24 twirling competition service opportunity 8 am- 4pm
- Goal: 1500 pounds per grade (Reward: off campus OR out of uniform)
- $1 is equal to 6 pounds of food/5 meals
- Idea : contact with different groceries to partner for food drive
- Idea: Have a consequence for the grade/division that looses
- Hope Core (ages 16-18)
- Need volunteers to put flyers up in each building and division for advertisement for food drive
- Students can trick or treat and ask for cans instead of candy
- October 31: Food bank service opportunity 9am-12pm
- Change: Dont need to collect in middle division + no collection in the primary division on friday 30th
b. Classroom with a Cause: Hope for the Holidays ICS Drive - Katherine
- Needs volunteers in the morning the help with lower division and primary division (december)
- Children making things to decorate christmas tree
c. Twirling Competition volunteers
d. Skill: What is Service-Learning? Mrs. Clay
Changes for class of 2019 Report of hours on Class of 2016 and other classes since requirement inception.
e. YLOKC Teens4Teems report
- Needs clothes that teams would wear (Donate!!)
f. Reflection and Evaluation of Peace Week: Peace Week Team
Thank you cards for Jeremy Gilley, Sam Presti, Jennifer Reed, Father Marlin, Father Blizzard, Father Youmans, Mrs. Lynn Robertson, Mrs. Zedlitz, Mrs, Sharp, Mrs. Czerwinski, Mrs. Morgan, Cannon Susan Joplin and the Labyrinth Steering Committee of Saint Paul Episcopal Cathedral, Episcopal Dioceses (World Peace Village)
2. New Items
a. Belief screening report. Availability of viewing during fifth hour.
- Oprah wants students thoughts/opinions on movie
b. Leukemia and lymphoma Society project proposal
On October 18th, you are invited to join thousands of people around the world as Oprah Winfrey presents the landmark television event Belief, a week-long documentary series that
depicts how people with a wide range of beliefs search for deeper meaning and connection with the world around them.
BELIEF will air on the Oprah Winfrey Network (OWN, Channel 766 Cox). It's a remarkable look at spiritually and culture around the world - like 'Planet Earth' for religion. It will air 7 days in a row from
October 18th - 24th
at 8pm ET/PT.
Casady Service Learning is proud to partner with the Opera BELIEF Team
in inviting people from different backgrounds to engage in viewing and share conversations in this Culture of Peace experience. Join in and invite others and you can
share the BELIEF trailer
.
Share this experience and join others in the conversation through the following links.
Twitter: #BeliefDays @OWNTV, @joshuadubois, @eridgnal
If you do not have the Opera, Channel, Casady Service-Learning will air the documentary at the Casady Wing at 7:00 pm on 10/18/2015 and subsequent nights as requested.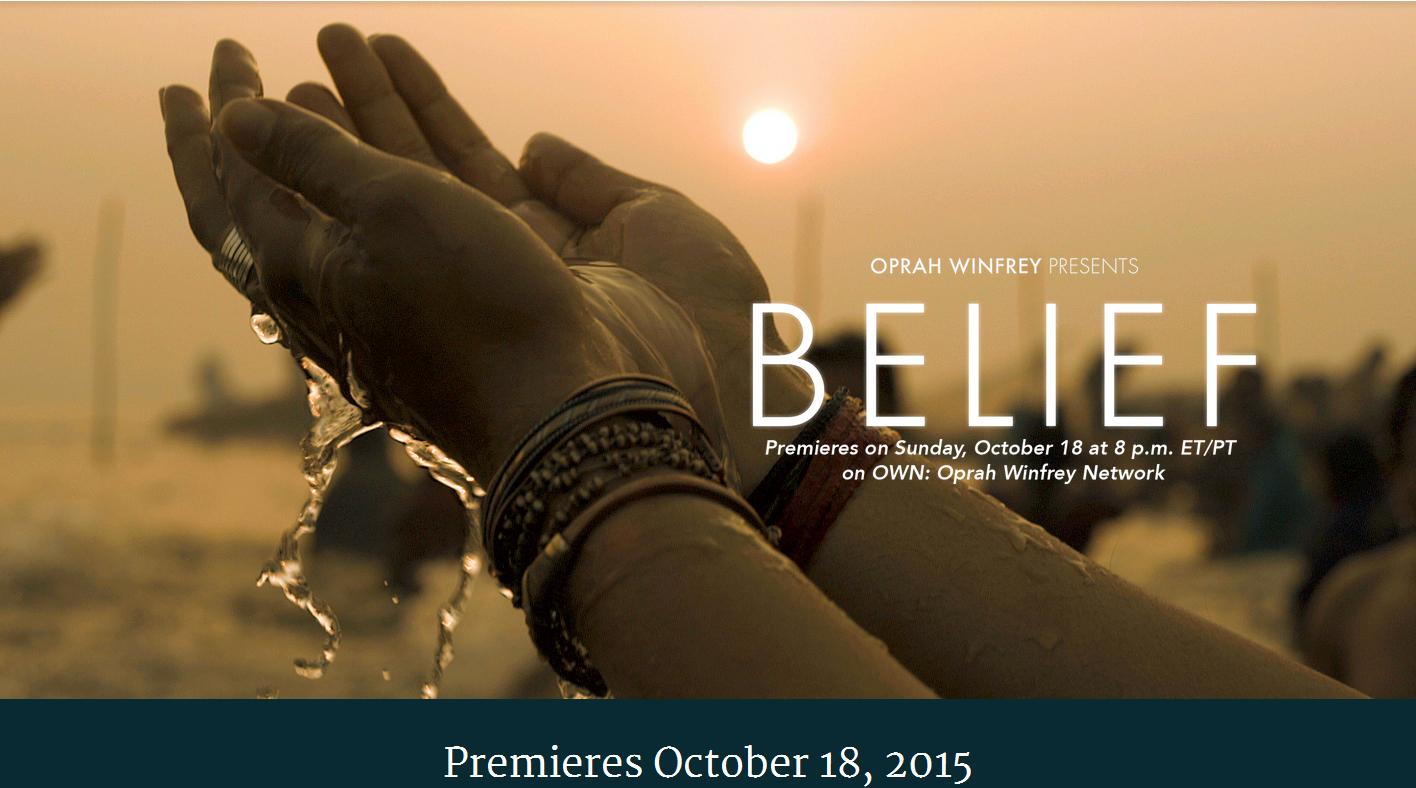 Opera presents BELIEF - 7 Consecutive Nights OWN Network 7:00 PM Central
"For the past three years, my team and I have been working to find the most compelling and thoughtful stories of faith, love and devotion from around the world," said Oprah Winfrey. "This truly has been my heart's work, to be able to share stories like these that reflect our world and explore humankind's ongoing search to connect with something greater than ourselves."
If you are able to watch BELIEF on your own, consider sharing the answers to these 3 questions via e-mail with clayc@casady.org.
1. What do we believe and how does that belief system
bring us closer to our life purpose?
2. What do others believe and how can we learn more about
those beliefs and our common humanity?
3. How can we connect more closely to other communities
of faith and belief to impact the world for the greater good.
Other questions for self-reflection
1. What role does faith and belief play in your life?
2. How do our diverse cultural traditions bind us together in
community with one another?
3. What are the benefits and risks of interacting with people
who have different beliefs, cultural or spiritual practices?
4. What do you not know about people from other belief
systems that you want to know?
5. What faith practices do you engage in to sustain yourself
and community during the most challenging times?
6. What are steps we can take to embrace the diversity of
beliefs within our community?
7. What is your hope for the future of belief around the world?
8. What is your hope for the future of intercultural
understanding in our community?

Monday, October 19