I hope all is going well with your preparations for Peace Day,

Monday 21 September

. Peace Day 2015 will see the greatest number of people exposed to the message of the day to date. We also expect to see the largest number of people aware and the biggest decrease in violence ever recorded in a single day.
I am thrilled that a result such as this will support the UN Sustainable Development Goals (SDGs), which seek to tackle the great challenges that humanity faces. The success of the goals is something we can all play a part in, indeed the SDGs will only be a success with wide public support. While observance of Peace Day supports all 17 SDGs, Goal 16 is particularly aligned with the values of Peace Day: both specifically seek to reduce violence. Let us therefore do all we can on

21 September

in the hope that this will inspire others, especially young people, to engage with Peace Day and the SDGs.
Our work in the Great Lakes region of Africa (GLR), made possible by the Howard G. Buffett Foundation, goes from strength to strength. We have concentrated on grassroots activation, and this, coupled with our Countdown to Peace Day forums, has manifested action on a scale we're absolutely delighted to see. This year we will celebrate that grassroots activity across the region by broadcasting the Peace One Day Youth Celebration from Kigali, Rwanda. This spectacular event will be broadcast live to Rwanda, the Great Lakes region and the world by the Rwanda Broadcasting Agency (RBA) network.
Have a look at the trailer below to get a feel for this exciting youth celebration.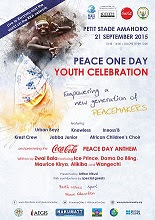 I hope you will be able to tune in to the Peace One Day Youth celebration via our website. More information will appear soon here.
As ever, it's a great honour to work with Coca Cola, who this year have produced a Peace Day anthem, written by Zwai Bala and performed by Ice Prince, Dama Do Bling, Maurice Kirya, Alikiba and Wangechi. The song, titled "One" will premiere at the Peace One Day Youth Celebration on Peace Day and subsequently be available on iTunes and other major music platforms with the proceeds going to Peace One Day to support our work. Do get a copy, and please tell everyone you know about it.
Once again I hope that your preparations are going well for Peace Day. Please tell us about your plans for the day via our online form here. If you haven't decided yet what you're going to do then look at our website for ideas. There are so many ways to get involved!
Here's to a great Peace Day 2015 celebration, and a wonderful Peace Day overall!
Jeremy Gilley
Founder, Peace One Day