Peace Week (11 Days of Global Unity, 9/11-9/21 International Day of Peace) Team 2015 seeks new members.

Join:
Johnny L., Grace P.
Isabelle S, Gabrielle M., and Cathy Z.
Contact Mrs. Clay or Johnny L'17 if interested.
The first Peace Week 2015 Team meeting will be Wednesday, May, 20 at 3:30 @ the Wing. Facilitator: Johnny L'17
Walter Mosley's Food for thought
I cannot be free while my neighbor is wearing chains.

I cannot know happiness while others are forced to live in despair.

I cannot know health if plague and famine thrive outside my door.

I cannot expect to know peace if war rides forward under my flag and with my consent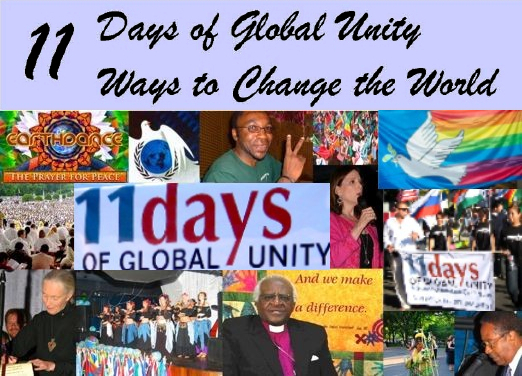 FROM "I" TO
Youth LEAD OKC
is a cultural competency and service-learning youth board
REFLECT, CONNECT, ACT
LEAD
stands for
L
eaders
E
ngaging
A
cross
D
ifferences. During meetings, teens develop 21 Century Skills and collaborate across differences to develop service-learning experiences, addressing real community needs, of youth voice and choice.
The School Year 2014-2015 was
Youth LEAD OKC's
first year of full operations. The idea of a cultural competency, service-learning teen board came from
Youth LEAD ONLINE Sharon
. The seed was planted in the fall of 2012 by a member of the Casady School freshman class, Sidney J'15 after a
TIDE Conference
. The idea was embraced by founding teen members, Sam K'15 from Heritage Hall High School, Dane N'15 from Douglas High School and Sirenee K'16 Edmond Santa Fe/Mercy School Institute in collaboration with the YMCA Youth Initiatives Program, Casady Service-Learning Program, Respect Diversity Foundation, and CAIR/Interfaith Alliance OKC-Mercy School Institute.
Youth LEAD OKC
(YLOKC) meets on Sundays _first Sunday, unless noted_from 1:30-3:30 pm at rotating locations of participating high schools and partner organization headquarters. In the school year 2014-2015 10 schools participated.
The planning teen team meets one hour earlier and stays 30 minutes after for debriefing and to set up the next month's agenda.
In 2014-2015 there was also an overnight training at Camp Fire USA led by a consultant from Sharon, Massachusetts.
There is an annual fee, but there is also a
YMCA-YLOKC
scholarship fund. The fee covers the
YLOKC
T-shirt and meeting operating expenses.
Youth LEAD OKC
is seeking new members for the school year 2015-2016. Contact clayc@casady.org, 405-520-1325 if interested.
Agenda for June Meeting
When? June 7, 1:30-5:00
Planning team meets at 1:00
Where? Mercy School Institute
Private School

Address:

14001 N Harvey Ave, Edmond, OK 73013
What?
1:30-1:55 TBA by planning team
2:00-5:00 Ushering "The Other Sun" Screening, viewing the film and participating in the guided discussion after the screening.
Skill: Dialog versus debate. Deep listening and types of questions
Invitation from RDF: Teen ushers wanted for Jewish/Muslim Films Institute
Respect Diversity Foundation

needs teens to usher at 4 screenings of Muslim/Jewish movies
.
The dates for the four events (screenings and discussions) are on Sundays
:
March 22 (Arranged),
June 7 (The Other Son),
August 9 (Free Men),
November 15 (Of Many).
The time for these events is 2-5 pm.
The films will be shown on a rotating basis at the Temple, Mosque and Synagogue. Contact
Joan Korenblit @ rdfrdf@cox.net if interested in ushering.
The mission of the Jewish/Muslim Film Institue is to bring diverse groups together to share films that will inspire dialogue and help Jews, Muslims and everyone realize that we are more alike than different. Guests are invited to enjoy the film and stay for a dialought forum and refreshments
June 7th, 2:00 PM-5:00 PM @ Mercy School Institute "The Other Son"
August 9th, 2:00-5:00 PM "Free Men" @ TBA
November 15th, 2:00-5:00 PM "Of Many" @ TBA
March film: "Arranged"
Sponsors
Partners for the Jewish/Muslim Film Institute include: Council on American-Islamic Relations (CAIR), Oklahoma Dialogue Institute Oklahoma City Emanuel Synagogue Islamic Society of Greater Oklahoma City (ISGOC) Oklahoma Center for Community and Justice (OCCJ) Oklahoma City University Film Institute Oklahoma Conference of Churches (OCC) Jewish Federation of Greater Oklahoma City (JFED-OKC) Respect Diversity Foundation (RDF) The Interfaith Alliance of Oklahoma (TIA-OK) Temple B'nai Israel United Nations Association Oklahoma City (UNA-OKC)
May 21, 2015

| Volume 22, No. 20



Spend the Summer Finding Your Voice, Taking Action, and Making an Impact!


As we celebrate the unofficial start of summer this weekend in the United States, we share 15 ideas from our partners to make it a Summer of Service. We'll keep adding opportunities all summer at

www.YSA.org/summer





NEWS FROM THE FIELD: SUMMER OF SERVICE IDEAS
Deadline:

June 10
Do you have a passion for helping kids? Have you worked hard to improve the lives of your peers or younger children, and now want to do more? Apply for the National Child Awareness Month (NCAM) Youth Ambassador Program, a year-long program for young leaders ages 16-22 to create change around issues facing youth today. Fifty-one NCAM Youth Ambassadors will be selected - one per state + DC. Ambassadors receive a $1,000 grant, an all-expense paid, three-day leadership training in September 2015 in Washington, DC, and ongoing training and networking opportunities. Apply at
www.YSA.org/ncam
Each week, YSA honors a young person who has found their voice, taken action, and made an impact on an issue important to them and to their community. Winners receive a certificate and award letter, and are featured on YSA.org, on social media, and in the Youth Service Briefing. All youth ages 5-25 anywhere in the world are eligible.
www.YSA.org/eyh_nomination

19 - Miami, Florida
Meet Jonathan Wynn. He founded 60 Minutes of Art in 2013 to take the visual and performing arts into inner city neighborhoods as an opportunity for children ages 5-13 to express themselves positively. Wynn came up with the idea when he was a sophomore in high school while experiencing homelessness and living in a car with his family. He began drawing and it helped him to feel positive about his situation. He knew that he wanted to give other young people struggling with difficult situations the same outlet to improve their outlook on life.
...»