The fearless young girl shot by the Taliban is inspiring a global movement
for girls' education
"Unbreakable"
Special Edition of "20/20″ Airs Friday, October 11 at 10:00 P.M. ET/PT
Malala Yousafzai, a 15-year-old schoolgirl from Pakistan, was shot in the head by Taliban assassins in October 2012 because she wanted to go to school. Her story of courage, determination and hope for learning in the face of almost unimaginable odds captured the attention of the world and has inspired a global movement for girls' education.
In an exclusive television interview with "ABC World News" Anchor Diane Sawyer, Malala describes her passion for learning despite threats from the Taliban and recounts the moments leading up to the assassination attempt on her life and her miraculous recovery.
Sawyer's interview with Malala will aired starting Monday, October 7 on all ABC News broadcasts and platforms, including "World News with Diane Sawyer," "Good Morning America," "Nightline," ABCNews.com, Yahoo! and ABC News Radio, leading up to a full-hour, special edition of "20/20″ on Friday, October 11 at 10:00 PM ET/PT.
Malala has been nominated for the 2013 Nobel Peace Prize. The winner will be announced on Friday, October 11 in Oslo, Norway. If she wins, Malala will be the youngest ever recipient of the Nobel Peace Prize.
ABC News has partnered with BBC to tell Malala's story to a worldwide audience. ABC and BBC interviews air in conjunction with the publication of Malala's memoir, "I Am Malala" (Little, Brown), on October 8, the day before the one-year anniversary of the assassination attempt on Malala's life.
Click here and here for information on the Malala Fund, supporting the education and empowerment of girls in Pakistan and around the world.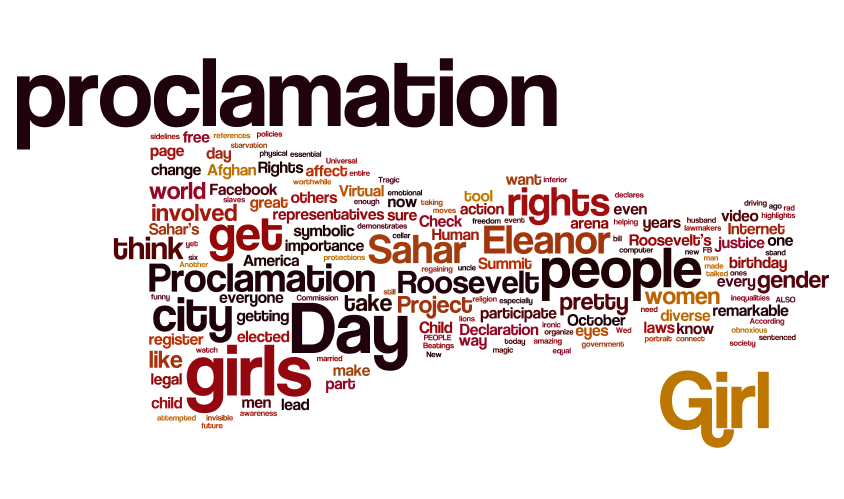 On December 19, 2011, the United Nations General Assembly adopted
Resolution 66/170
to declare 11 October as the International Day of the Girl Child, to recognize girls' rights and the unique challenges girls face around the world.
For its second observance, this year's Day will focus on "Innovating for Girls' Education".
The fulfillment of girls' right to education is first and foremost an obligation and moral imperative. There is also overwhelming evidence that girls' education, especially at the secondary level, is a powerful transformative force for societies and girls themselves: it is the one consistent positive deter
minant of practically every desired development outcome, from reductions in mortality and fertility, to poverty reduction and equitable growth, to social norm change and democratization.
While there has been significant progress in improving girls' access to education over the last two decades, many girls, particularly the most marginalized, continue to be deprived of this basic right.
Girls in many countries are still unable to attend school and complete their education due to safety-related, financial, institutional and cultural barriers. Even when girls are in school, perceived low returns from poor quality of education, low aspirations, or household chores and other responsibilities keep them from attending school or from achieving adequate learning outcomes. The transformative potential for girls and societies promised through girls' education is yet to be realized.
Recognizing the need for fresh and creative perspectives to propel girls' education forward, the 2013 International Day of the Girl Child will address the importance of new technology, but also innovation in partnerships, policies, resource utilization, community mobilization, and most of all, the engagement of young people themselves.
All UN agencies, Member States, civil society organizations, and private sector actors have potential tools to innovate for and with girls to advance their education. Examples of possible steps include:
Improved public and private means of transportation for girls to get to school—from roads, buses, mopeds, bicycles to boats and canoes;
Collaboration between school systems and the banking industry to facilitate secure and convenient pay delivery to female teachers and scholarship delivery to girls;
Provision of science and technology courses targeted at girls in schools, universities and vocational education programmes;
Corporate mentorship programmes to help girls acquire critical work and leadership skills and facilitate their transition from school to work;
Revisions of school curricula to integrate positive messages on gender norms related to violence, child marriage, sexual and reproductive health, and male and female family roles;
Deploying mobile technology for teaching and learning to reach girls, especially in remote areas.
An International Day of the Girl Story in the USA! http://dayofthegirl.org/wp-content/uploads/2011/05/DayOfTheGirl2012slideshow.pdf from http://dayofthegirl.org/
We are lifelong Berkeley residents and girls between the ages of nine and fifteen. We are writing to ask for your help to have the City of Berkeley recognize the first International Day of the Girl on October 11th, 2012.
This year, the United Nations officially designated October 11th as a day to raise awareness about empowering and investing in girls around the world. We've attached the resolution adopted by the UN General Assembly for you, in addition to some supporting research.
Here are a few reasons why we think this is so important:
Gender equality is a fundamental right for all people, and research shows that investing in girls can create a ripple effect that not only improves the lives of girls but also benefits the economic growth and the health and well-being of communities.
The Berkeley Unified School District reported that 12.7% of Berkeley girls in the class of 2010-11 dropped out of school. Research shows that, as compared to their male peers, girls who fail to graduate from high school have higher rates of unemployment; make significantly lower wages; and are more likely to need to rely on public support programs to provide for their families.
Every person in life, no matter their gender, has some female figure they care about and want to succeed. If girls aren't given the opportunity to be educated, it is more difficult for them to succeed and achieve their full potential. We are also enclosing a draft proclamation for you to consider. Please let us know if you need any more information.
We would be happy to meet with you.
Sophie Dua (age 11)Anna Dua (age 9)Kaela Elias (age 15)Gianna Gunier (age 11)Anya Wallin (age 15)Sadie Winkelstein (age 9)
International Day of the Girl is right around the corner -- register now to celebrate girls on

October 11th

!
Hi Casady YAC!

Get ready for 2 big moments, just 1 week away
!
---
OCTOBER 11th

IS A BIG DAY.
It is when the Nobel Peace Prize will be announced. We think
Malala Yousafza
i
, the Pakistani teen shot by the Taliban, who advocates for peace and learning in the face of violence and ignorance would be a wonderful laureate. Don't you?
October 11th

is also International Day of the Girl - and it's not too late for you to join in and spread the word that girls' education matters. Here are a few ways to get involved during the month of October:
Gather friends for a mini-screening. Suma's story is amazing - plus, it's a great,
free
way to celebrate girls and fuel the movement. Don't forget the popcorn!
---
Join the Movement on Twitter
Have some fun with our social media campaign:
#WeAreGirlRising
. We are seeing -- and resharing -- tweets and photos from girl-champions around the world - join our community, and show the world your support for girls!
---
Tell everyone you know in the education community – parents, teachers, principals, superintendents - that there is a new Girl Rising Curriculum, aligned with Common Core, and designed to motivate the next generation of leaders. Educators can find the free curriculum
here.
Thanks for your support for the Girl Rising campaign! Together, we are building a powerful movement for change.
Copyright © 2013 10x10, All rights reserved.

You are receiving this email as a supporter of 10x10.

Our mailing address is:

10x10

125 West End Ave

New York, NY 10023