Casady After School Pinwheels 2013
September is the month in which the Casady service-learning program collaborates with Cyclones of all ages creating pinwheels for our annual divisional Casady celebrations of the International Day of Peace (9/20/2013) and for the Peace Garden and multicultural festival which will take place on September 20, 2013 from 4-6 at OCU's Chapel.
http://www.pinwheelsforpeaceokc.org/
OCU's International Day of Peace Festival 2012
The Casady Service-Learning Program's goal is to plant 500 pinwheels at Casady and OCU with our students thoughts of kinder communities where "velvet words and actions" prevail over "sandpaper words and actions.
http://www.oklahomacitynationalmemorial.org/secondary.php?section=6&catid=192
. The pinwheels also answer the Peace One Day Global Truce 2013 overarching question,
Who will you make peace with in 2013?.

Pinwheels have already been made during the summer by Youth LEAD OKC teens, Boys and Girls Club members, and Summer By the lake students.


The Casady YAC (Youths in Action in the Community-Service-Learning Youth Board) is connecting to different divisions to help make pinwheels and observe the 11 Days of Global Unity.
http://www.wetheworld.org/11days2007/About%2011%20Days.html
. An extra day of engagement has been provided by Casady YAC and Youth LEAD OKCasady Junior Chair, Sidney Jones as she will lead a reflective component of the Oklahoma Conference of Churches Interfaith Youth Tour on 9/22/2013.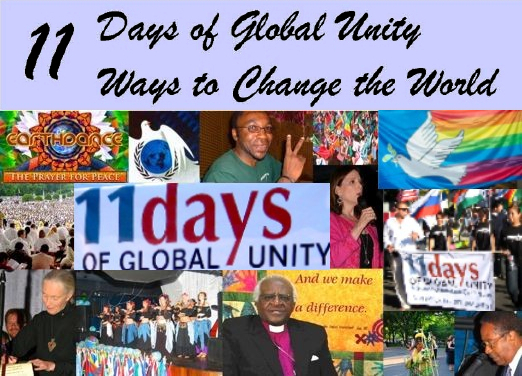 Divisional Preparations and Celebrations
PD IDP Celebration 2010
PD IDP Celebration 2009
The Primary Division will make pinwheels led by Mrs. Pat Czerwinski, Mrs. Jane Sharp and Maggie Adair, Casady YAC Sophomore Grade Chair and member of YLOKCasady.

On September 20, at PD chapel time (10:30 AM), the PD will Celebrate the International Day of Peace.

Dressed in Six Billion Paths to Peace t-shirts donated by the Shinnyo-en Foundation, students will march towards chapel. Father Blizzard will bless the PD pinwheels and the day's celebration will include a song for peace and a send off of bubbles of hope for peace around the world facilitated by YAC students available during their Study Hall.
LD After School Program 2013
The LD after school program has been leading the pinwheel making since school started. The project is being facilitated by LD after school teachers Mr. Arthur Lopez , Ms. Elizabeth Bertucci, Ms. BreAuna Gaddis, YAC sponsor, Mrs. Carmen Clay, and YAC/Youth LEAD OKCasady junior Seondre Carolina.
LD will be making pinwheels and placing them on the peace sign in front of the chapel on
Sept. 20
.
*Each class will create "Peace Pledge" for their homeroom. Each class will stand in chapel next week and read their pledge together. The pledge will be signed by each student and posted it at their classrooms. Pledges will be laminated and put on a poster with a stake in the peace sign with the pinwheels.
As part of the LD After School Enrichment Program-
Kindness
Mon
days,
LD students started their connections to parts of the Peace Stone Soup Project
https://docs.google.com/a/casady.org/presentation/d/1V87gQE-hlF1Rk1iiC7MYmuo6n0PJRN1e9LAlM3-NiIA/edit#slide=id.gf20f0682_10
. They listened to two stone soup stories and made "super hero stone drawings. The super power of the first grade stones were sharing, kindness, friendship, and love. Students also made an artistic creation of their depiction of Unity. Mrs. Clay will place the poster at the UD student center and request teens to consider pledging their good deeds for 9/11. Other signs depicting the children's understanding of each of the theme words of the 11 Days of Global Unity will be displayed at the OCU festival on 9/20 and 9/21 at the Boys and Girls Club Kids Carnival at the Casady Service-Learning booth.
On 9/20/2013, at LD Chapel (2:45 PM), Mr. Tim Crofton, MD and UD Drama teacher, and Father Charles Blizzard, Casady's Vicar will lead a reflective peace exercise through songs with words of peace from places in violent conflict.
MD IDP Celebration 2010

The MD International club sponsor, Mrs. Lynn Robertson in collaboration with Johnny Lee, YAC freshman class chair, will make PEACE ART. New students and 5th graders will give THUMBS UP TO PEACE and pledge a good deed on 9/21 by placing their thumb print on the peace sign, Mrs. Melody Huber, MD Art teacher, in collaboration with Mrs. Robertson created in 2012. Johnny Lee, YAC Freshman Grade Chair, will make a two minute speech at LD and MD chapel on Wednesday, 9/11. Mrs. Melody Hubber stated that this year, " I am making a large sign for the middle division hallway that will say "PEACEMAKERS," it will be mounted on dark blue butcher paper, and next to the sign, I will have papers directing students to write on the sign in chalk what attributes and people they think of when they think of the word peacemaker."

On 9/17, the International Club will raise awareness of the Peace One Day Global 2013 Celebration.



On 9/18, at MD Chapel (9:30), Mr. Crofton's classes will have a dress rehearsal of the "piece of peace" the classes are preparing to present at the OCU festival on 9/20/2013.

On 9/20, at MD Chapel, Mr. Crofton and Father Blizzard will lead a reflective peace exercise through peace sculptures.


MD IDP Celebration 2011
In the high school, the YAC sponsor, Mrs. Carmen Clay, requested consideration from STUCO and clubs to make pinwheels with the theme of their club connected to the 11 Days of Unity. For example, Harry Potter Club could make pinwheels with Harry Potter connected to September 16's theme of Children and Youth . Gales could connect pinwheels to the 9/16's theme of mental and physical health through sports (Peace Players International-The Power of Sports:
http://www.peaceplayersintl.org/
), Environmental Club could connect to the 9/13/ theme, our environment. Competition will start on 9/11 and end on Monday 9/16. The winning group will be treated to a YAC "peace" snack during the Friday YAC meeting.
On 9/11 at UD Chapel (9:30 AM), Father Blizzard will connect to the theme of unity with a moment of silence and a challenge to turn violence into hope by doing a good deed on 9/11 and beyond.


During 7th Period, as YAC Executive Board Good Deed for the day will be a delivery of PEACE Cookies to the Village firefighters to thank them for their daily kindness keeping our city at peace.
On 9/12,
Interdependence Day, the YAC Executive Board is promoting a teacher appreciation note contest as a good deed. The best thank you note reported by a teacher will win a prize.
On 9/13,
Environment Day, YAC will deliver pine tree seedlings to UD teachers courtesy of the Forestry Department resulting from an investigation done by the Boys and Girls Club Green Team. Faculty will be encouraged to plant the trees on 9/21, International Day of Peace as part of the ENO Schools Programme that calls for students to help plant 100 million trees by 2017.
http://www.enotreeday.net/
On 9/14, t
he service learning program and YAC will connect to the theme of social justice sponsoring a day of service. The location will be announce on Wednesday 9/11. Students interested in volunteering need to sign-up at the Service-Learning Office at the Casady Wing.
On 9/17,
YAC members will show a video of Peace One Day in chapel to raise awareness of the Peace One Day Global Truce 2013,
Who will you make peace with?

On 9/18, connecting to the 12 days of global unity at chapel, the choir or the orchestra will have a selection on Peace (TBC). Mr. Crofton is also searching for other possible curricular connections.
On 9/20,
at 6:30 in the morning, connecting to the disarmament theme, pinwheels will be planted on a peace sign made by our grounds crew in front of the Casady chapel. Pinwheels will be blessed by Father Blizzard and volunteers will be encouraged to have a silent peace walk around the lake. Before the peace walk, volunteers will be given a copy of "A "Just Peace"thought from Mattie J.T. Stepanek.
http://www.mattieonline.com/wp-content/uploads/2013/08/2013-0828-Mattie-Dream-essay__.jpg
At noon, UD chapel time, Mr. Crofton and Father Blizzard will lead a reflective peace imagery exercise.
Plans for the YAC Activities meeting will be announced on Wednesday 9/11.
During 7th period, YAC volunteers, Seondre C. and Maggie A. will pick-up pinwheels and transport them to OCU, where they will volunteer at the Service-Learning Booth giving away
6 Billion Paths to Peace
t-shirts to volunteers and providing information about Shinnyo-en Foundation's,
Be the Peace
reflective cards and the
Hope Trunk,
Educational Program of the Oklahoma National Memorial and Museum. After the festival ends, Seondre and Maggie will eat dinner with MD Cyclones who will participate in the festival and will help them reflect the evening activities. As group they will collect pinwheels and take a few of them to the Oklahoma Memorial Fence before returning to school.
On 9/21,
the service learning program is sponsoring an interfaith youth service day to celebrate the International Day of Peace at Boys and Girls Club. Casady will have a peace booth at the Club's Kids Carnival and school supplies give away. Youth LeadOKC, Sydney J. Dane N. Carmen C. Buthiana J. will manpower the Casady booth making pinwheel pins for participants and an art project. The Casady and YLOKC volunteers will be joined by 100 volunteers from OU outreach program. Volunteers will be able to manpower indoor and outdoor activities at the club. The club's Green Team is hoping to have approval to plant a pine seedling at the park on Peace Day. Carnival participants will be made aware of the global peace day celebration made possible by Peace One Day through cell phones and laptop computers.
On 9/22
, YAC/Youth LEAD OKCasady students will participate in the Interfaith Youth Tour sponsored by the Oklahoma Conference of Churches. The reflective component of the tour will be led by Casady's YAC Junior Grade Chair and YLOKCasady member, Sdney Jones.