Emerging YAC Executive Board
Horizontal/Collaborative/
YLEAD-Capacity Building Leadership

"Executive Board duties and responsibilities are along the lines of organization, planning, and making things happen. Chairs should attend the meetings and help organize and plan events so that the club will run smoothly." Aubrey H.
Chairs: "Responsible for attending all the meetings and helping plan and organize events for YAC. also helping get other students to get involved with YAC.
"
Neely R.
Freshmen Chairs:
Johnny L.
Project Chairs:
Johnny
(MD: 12 Days of Unity: chapel 2 minute speech at LD and MD Chapels, IDP chapel presentation with video)
Sophomore Chairs:

Aubrey J. , Majo T., Neely R., Namir
Project Chairs:
Maggie
(PD: IDPC, Chapel Wednesday Announcements).
Aubrey (Invitational,
Special Care-Board of Special Care-, SKILL (Part of Youth Services of Oklahoma County Youth Board? ). SKIL is an organization for high school students who are on their own trying to make it through high school and pay the bills. We could get toiletries donated and we could make pouches for them.
NEELY: (Food Bank and YWCA)
MAJO: (State Fair Clean-UP)
NAMIR:
Junior Chairs:

Jessica G

., Hunter S., Sidney J.
Project Chairs:
Jessica (Invitational, YAC agendas, YAC calendar),
Sidney (Youth LEAD OKCasady Connections)
Gavin C./Carleigh, Yogaish Seondre
(YLOKCasady Connections),
Sindi/Carleigh
(Positive Tomorrows: RAK-Week),
Natasha S.
(Chapel Wednesday Announcements)
Senior Chairs: Katie H. Abby J., Valentina R.,
Project Chairs:
Katie (Invitational, YAC Meetings co-facilitator, Students Against Hunger Food Drive)
Abby
Valentina
YLOKCasady:

Sidney, Gavin, Carleigh, Seondre, Yogaish, Hunter
Project Chairs:
Sidney (Invitational, 9/22 IFYT Reflection, IDP @ Boys and Girls Club),
Gavin
Carleigh
Yogaish
Seondre (LD/After School IDP helper)
Hunter
Faculty:
Mrs. Clay/Mr. Crofton (UD: Peace Stone Soup);
Mrs. Robertson/Father Youmans/Mrs. May (MD: YAC Connections to International Club);
Mr. Lopez

, Mr. Bush/Mrs. Hanneman (LD and after school program connections);
Mrs. Czerwinkski (PD Connections)
Project Chairs:
Mrs. Clay/Mr. Crofton/Father Blizzard/Father Youmans (Peace Stone Soup)
Administration
UD: Dr. Philipson/Coach T/Mr. McHargue/Mr. Sheldon/Mr. Fresonke/Mr. Bright
MD:
Miss Larsen
LD:
Mrs. France
PD:
Mrs. Sharp
Maslow's Hierarchy of Needs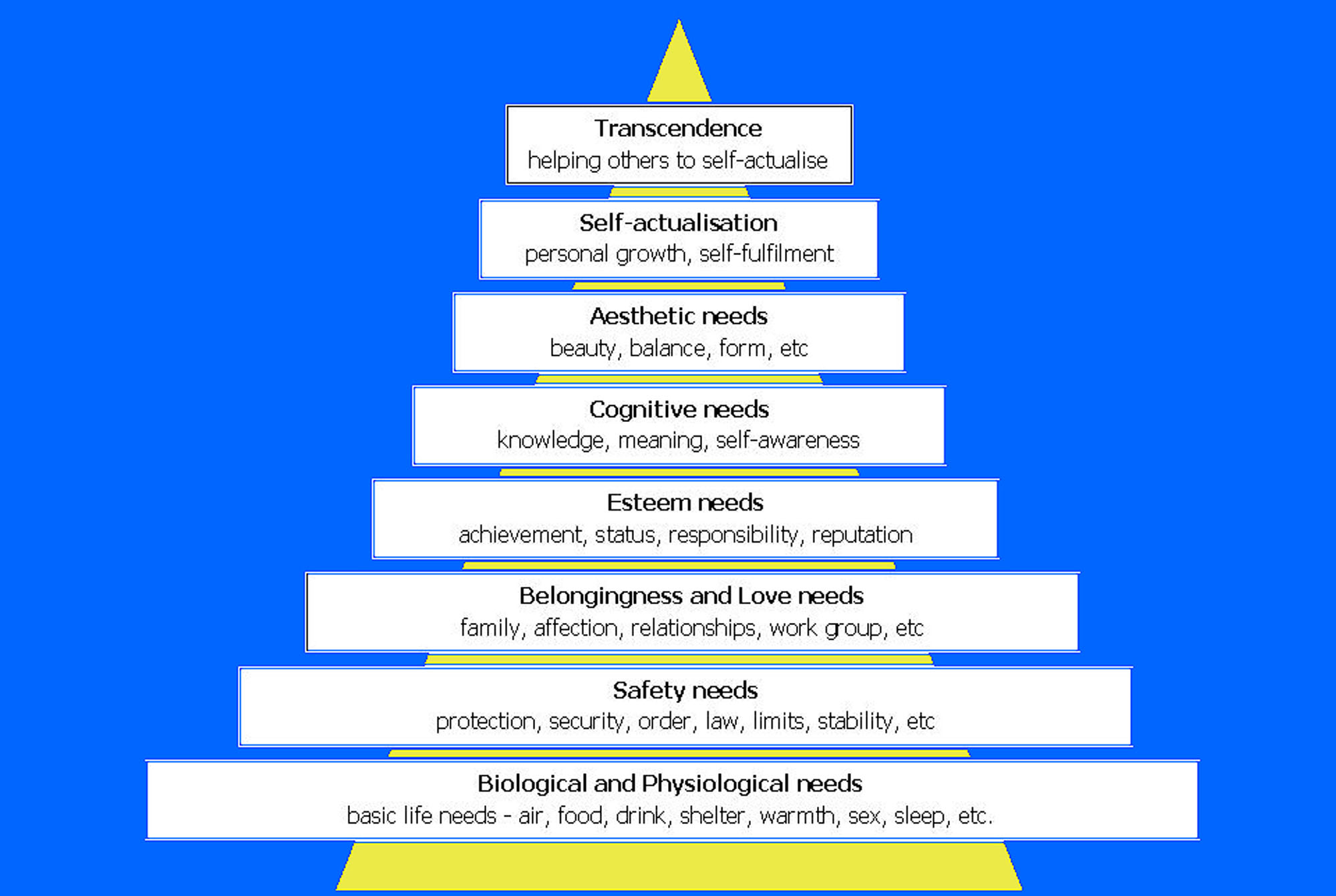 From Foundation for a Better Life on Teamwork
"If you want to go fast, go alone. If you want to go far, go together."
African Proverb -